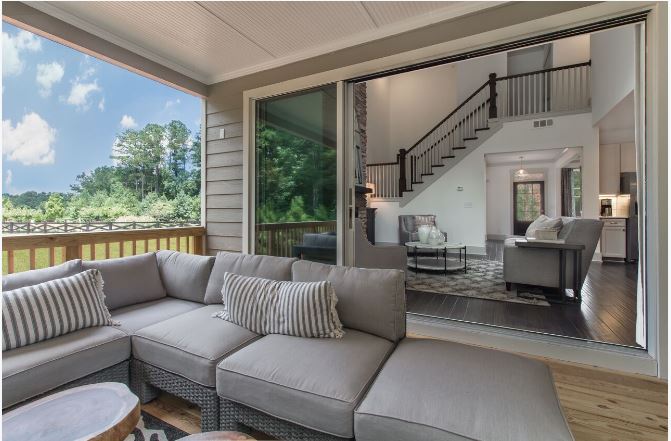 Some of us are naturally drawn to the Great Outdoors, while others prefer to enjoy its beauty from the climate-controlled comfort of our homes. Either way, there is a growing trend in interior (and, arguably, exterior) design that calls for a unification of indoor and outdoor living spaces. At Paran Homes, we often design our homes with this in mind – adding lots of windows to let in natural light and provide scenic views, creating outdoor living spaces that serve as great entertainment zones, and providing model homes that embrace this design trend and offer inspiration to our guests. We've compiled a list of four tips that you can try in your own home (or future home) to connect your indoor and outdoor living spaces.
Mirror Your Interior Design Theme Outdoors: If you have a color story and design theme throughout the interior of your home – say a nautical theme paired with a navy and white color story that boasts pops of bright orange – you'll want to carry those same colors and theme outdoors to create a seamless flow between spaces. On one hand, it will make your outdoor living space feel connected to the indoors, and on the other, it won't clash from a color or design perspective when you look out the window at your outdoor living space.
Use Window Treatments to "Frame" Your Backdrop: Framing your windows with long curtains hung slightly above the trim and extending all the way to the floor not only softens the room and adds an air of romanticism, but also draws the eye to the window and, more importantly, the scenery beyond the window. This virtually makes your backyard a "work of art" that you, your family, and your guests can enjoy year-round. Other possibilities include plantation shutters with large louvers to let in more light and optimize the view, in addition to shades that can be drawn open on particularly beautiful days.
Bring Elements of the Outdoors Inside: A great way to connect outdoor and indoor living spaces is by bringing elements of the world outside your window inside. This can include live plants, hardwood floors and rustic wood walls/beams/furniture, stone fireplace surrounds, nature-inspired artwork and décor, and more.
Create an Outdoor "Room": By extending your ceiling from the indoors to the outdoors, you automatically create the perception that those spaces are connected. A covered porch extends your enjoyment during inclement weather and a screened-in porch could extend it even further. Covered porches also expand your design and usage options so much more so than an open patio. The cover a ceiling provides allows for things like cozy overstuffed conversation seating and wiring for an outdoor flat-screen TV, both of which provide more of a sense of its own space.
If you'd rather start fresh instead of trying to convert your current home to an indoor-outdoor oasis, Paran Homes welcomes the chance to build your next home – complete with a focus on outdoor living spaces. Many of our homes come with options to extend, cover, and screen in the patio. One of our most popular options is our Game Day Patio, featuring a covered outdoor living space complete with a hearth and pre-wiring for a TV. It's the ideal spot for watching your favorite sports, like college football or major league baseball, while enjoying some fresh air with friends and family members. To learn more about Paran Homes, including our communities throughout the Southeast and our floor plans that offer the Game Day Patio option, please visit us online at www.paranhomes.com. For future tips, news about up-and-coming communities, and more, be sure to bookmark our blog!