Southeast Home Builder Recognized for its Support of Nonprofit Organization Devoted to Helping the Homeless, as well as other Local Neighbors in Need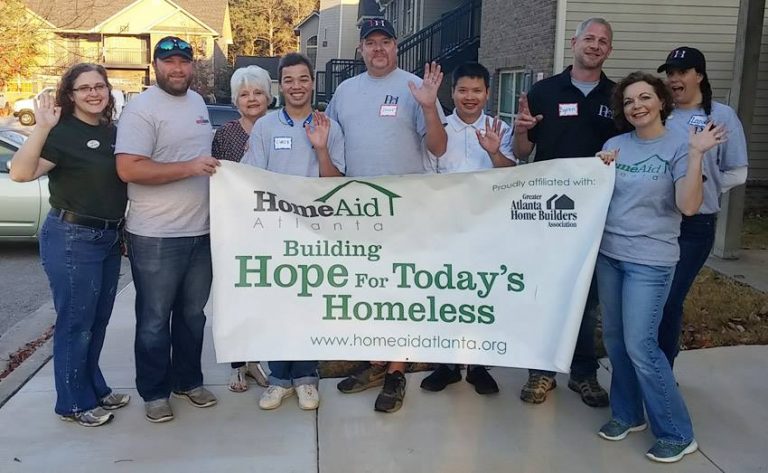 Atlanta, GA, February 16, 2017 – On January 26, Paran Homes was named Builder of the Year by HomeAid Atlanta for its many contributions over the course of 2016. Hosted at the Hyatt Atlanta Perimeter, the awards presentation – which included the recognition of Sherwin-Williams as Trade Partner of the Year and the Atlanta Chapter of Professional Women in Building (PWB) as Volunteer of the Year – took place during the Greater Atlanta Home Builders Association's Installation and Awards Program. Award winners were selected for the gifts of their time and resources, as well as their dedication to furthering HomeAid Atlanta's mission of "building new lives for Atlanta's homeless."
Throughout 2016, Paran Homes was proud to serve as an Essentials Drive donor and donation site for collecting diapers, wipes, and formula for homeless babies and their families. The Southeast home builder also served as a sponsor, volunteer, and participant in HomeAid's annual Housing the Homeless Tournament.  During HomeAid's "Stock the House" Drive, Paran Homes made a large furniture donation for HomeAid's newly completed apartment building at Phoenix Pass – a long-term transitional housing complex serving women with children who are experiencing temporary homelessness in the Conyers/Rockdale County community. In addition, the Paran Homes team donated printers to support the administrative efforts of HomeAid and its service provider partners.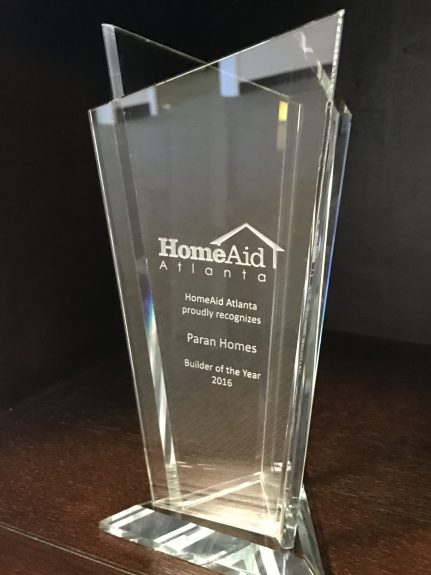 "We are so proud of our association with HomeAid Atlanta," said Anne DeLorenzo, Administrative VP – Human Resources for Paran Homes. "It's a natural fit for us… we're building homes and they're rebuilding lives. As we've grown in recent years, so has our level of commitment. Our team members are always willing to volunteer and often get so involved that on a recent renovation project on behalf of HomeAid, several of our field guys gave their personal time to see that the job was done. It's an opportunity to touch people's lives in a meaningful way – it's amazing what a fresh coat of paint, new set of cabinets, or picnic table by the playground can bring to a family's life. We also love the fact that what we give back stays here in Atlanta. We get to see it – not just in our own tangible creations, but also in the faces of our neighbors."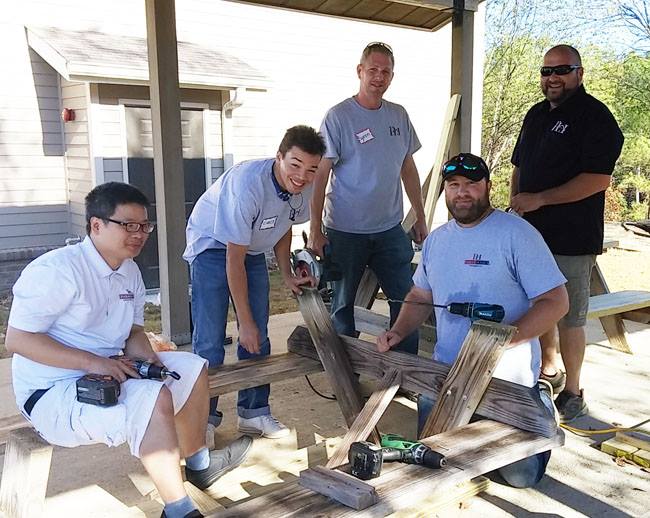 Committed to community involvement at every level, Paran Homes is also happy to show its support to Children's Healthcare of Atlanta, Atlanta Speech School, The Forsyth and Gwinnett Chapters of the Fraternal Order of Police and Toys for Tots. DeLorenzo shared that Paran will continue its support of HomeAid Atlanta in 2017 through participation in an Essentials Drive in May to coincide with Mother's Day, the upcoming Housing the Homeless Tournament on June 5 and at least two other Care Day events in the Spring and Fall.
About Paran Homes:  Founded in 2010 and headquartered in Metro Atlanta, Paran Homes boasts beautifully crafted homes and imaginative communities in some of the Southeast's hottest housing markets. With a presence throughout Metro Atlanta, as well as and Nashville, TN, Paran Homes seeks to build houses of uncompromised quality while delivering a stellar customer service experience – from the first community visit to closing. To match the needs and wishes of today's home buyers, the placement of Paran Homes communities is based on access to great schools, major thoroughfares/interstates, local shopping, dining and entertainment. Beyond the allure of its homes and community locations, many Paran neighborhoods feature resort-like amenities including pools, walking trails, and clubhouses. To learn more about Paran Homes, view available homes and discover current communities throughout the Southeast, visit www.paranhomes.com.
About HomeAid Atlanta:  Founded in 2001, HomeAid Atlanta is a nonprofit organization that builds new lives for homeless families and individuals through housing and community outreach. HomeAid works in partnership with the Greater Atlanta Home Builders Association, as well as community building industry organizations, to assist people experiencing homelessness. To date, HomeAid Atlanta has completed over 76 housing, remodel and care day projects at locations that serve victims of domestic violence, teen mothers, and more. Learn more at www.homeaidatlanta.org.