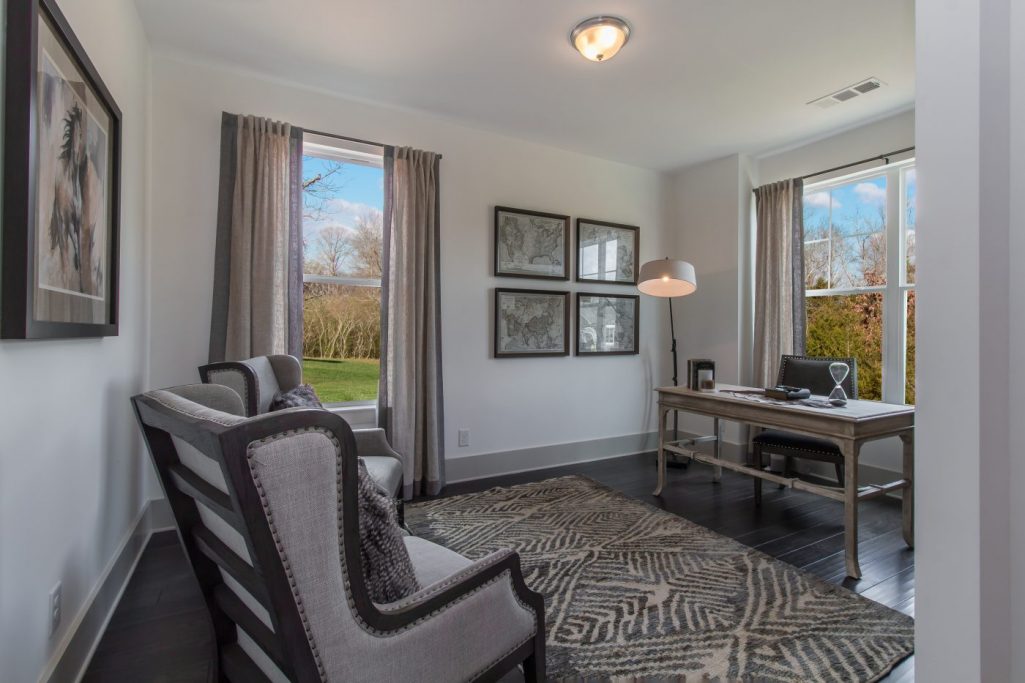 Are you one of the millions of work from home (WFH) employees that could use a great office space right at home? According to a recent Gallup study, 37% of desks will be empty this year, as working from home has become the new normal for many Americans. If you are among the work from home crowd or just looking to have the best home office setup, let us help you get it started! Continue reading to discover our floor plans that fit a home office easily, and some great setup tips.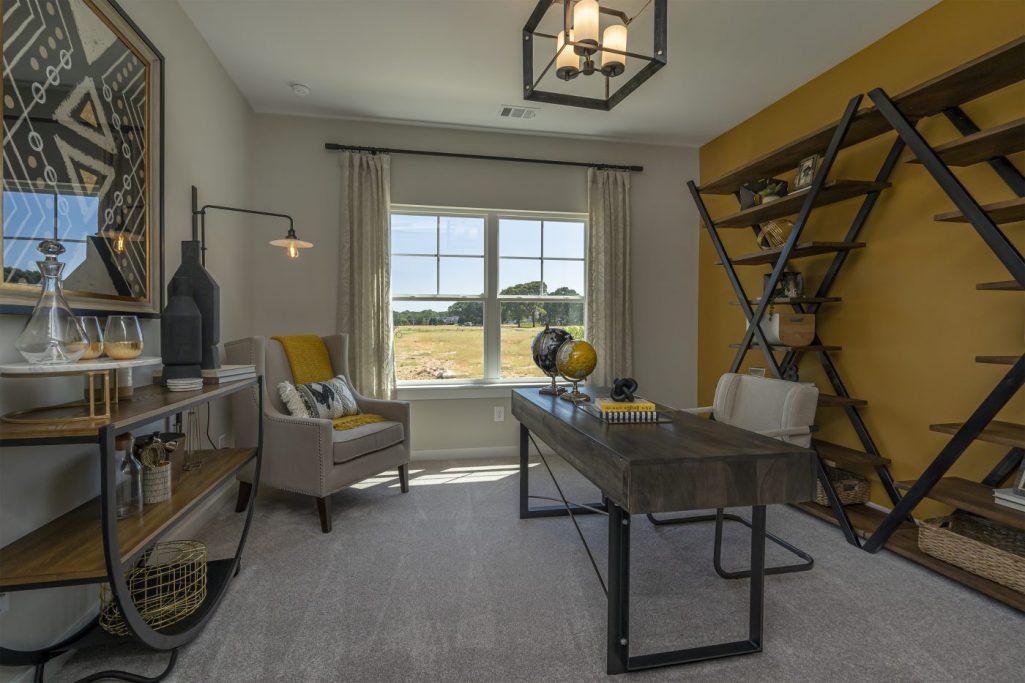 Which Floor Plan is Best for a Home Office?
First, you need to find the space that works with the floor plan design of your home. The location of your office is critical to your productivity, and how you engage with your home and family outside of work hours". If you have a dedicated built-in study or flex space, like in our Cambridge floor plan at Oakleigh Pointe, then you are all set. But if not, you have to get creative! You'll want to decide what floor you want your home office setup to be on. And, we have a variety of 2-story designs that give you a plethora of options. You can check all of our floor plans here. 
A first floor office is great for multitasking during down time, like washing dishes, cooking lunch, grabbing another cup of coffee, etc. Separating life and work is great, but getting little chores done during the day can leave you with more free time in the evening! 

On the other hand, a second floor office will typically be quieter, thanks to less foot traffic throughout the day. In Traditions of Braselton, you'll have plenty of upstairs space to choose from. These Jefferson homes feature game rooms, lofts, and 3 to 4 additional bedrooms per plan.

You'll also want to pick a room where you have plenty of natural light to keep the space bright and refreshing. 

Plus, a room with a door could make or break your workspace, especially if you have other family members working or staying at home. Having a quiet space to disconnect from your home life can make concentration easier!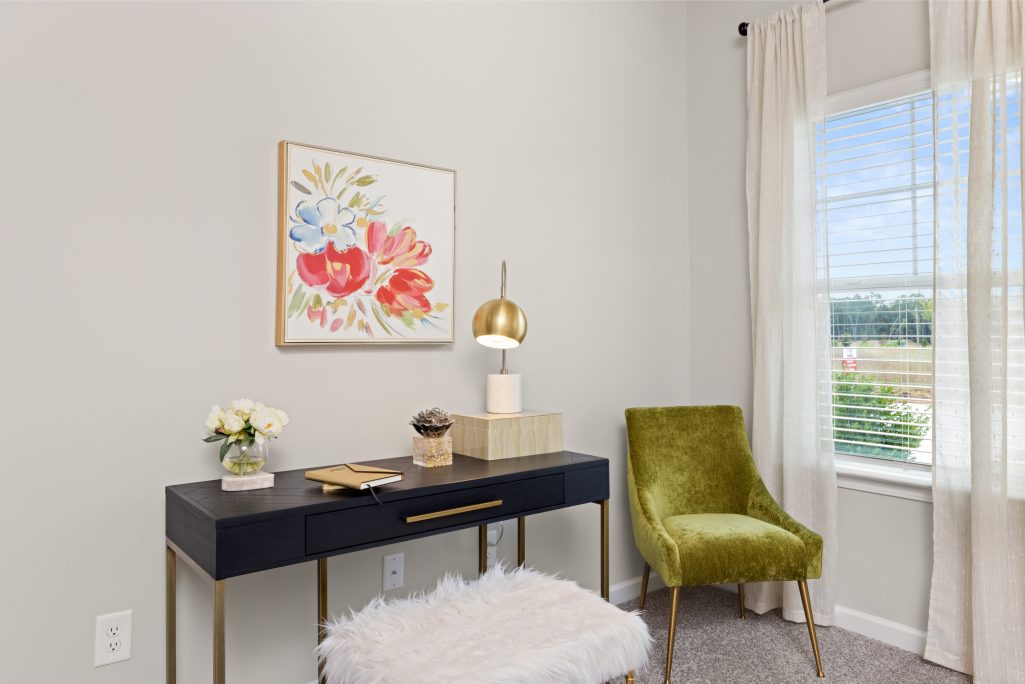 The Essentials for an Ideal Home Office Setup  
Now that you have an idea of your home office setup location, it is time to design. You can really get creative here and make it a space you love. Here are some great ideas for customizing your own home office set up. 
Get organized, whatever that means to you. Having a space to put away your work from the day and keep a clean workspace is key. Some pieces that make this simple are folders, bookshelves, and pen cups. Organization can help create a clear line between work and home life without letting the workday drag into your free time! Balance is key.

The perfect desk does exist… well, kind of. You have so many options to choose from these days! Standing desks are growing more popular with the many benefits they offer. For example, users have seen reduced back and neck pain, and standing for work can reportedly lower your risk of chronic diseases by 10%-20%. In addition, another accessory for these standing desks is the desk treadmill, for another healthy approach to your work day. 

Personalize your space with special touches that reflect you! Vibrant art on the wall can bring energy to the room to keep you motivated all day. Add a speaker to play your favorite podcasts, coffeehouse music, or focus sounds! Plus, a couch or daybed makes your home office setup feel cozy, with a space to put your feet up on slow days. 

Lastly, ergonomic hardware is another key piece to an ideal home office setup. If you are working with a company laptop, consider adding more monitors, an external mouse and keyboard, and a tilt stand. These will add extra convenience and productivity to your work day.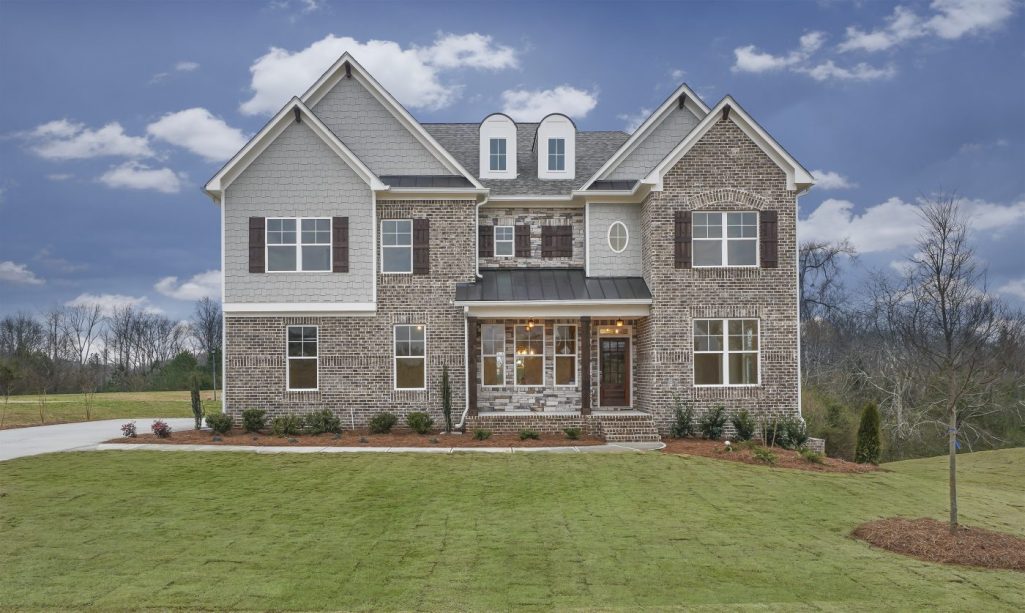 Find a New Home With an Ideal Home Office Setup
So, if your desk is one of the 37% that will be empty, you need a home office setup that helps you stay productive and happy! A work-life balance is key to this newly popular form of working. We have new homes across Metro Atlanta with a variety of home office setup options to best fit your lifestyle. Discover our new construction communities today! Then, contact an agent to learn about availability, and how a home office easily fits into our modern designs!