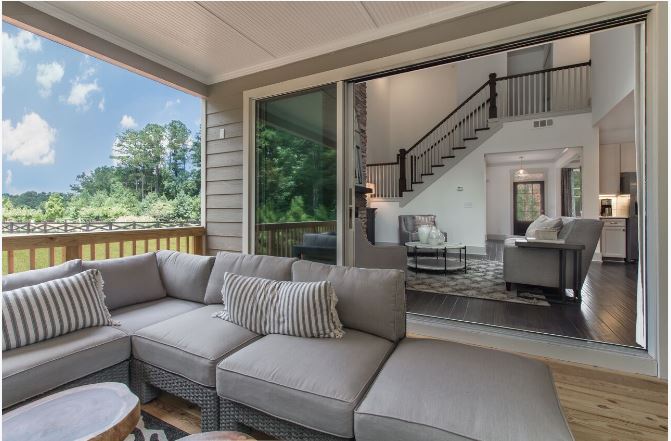 At Paran Homes, we applaud and understand that our homeowners have their own interior design tastes and sense of style. After all, interior design can help make a house feel like home, serve as a reflection of a family's collective personality and act as an inspirational backdrop to all of the memory-making that will occur within the walls, halls, and each and every room of the home.
For those homebuyers and homeowners who also like to design according to the latest design dictates and cutting-edge styles, we've looked to our team of award-winning designers to weigh in on the Top 10 Design Trends for 2019. Joy Kirkland of Innovative Interiors and Tracy Cook of Design Etc. regularly create amazing model homes in Paran Homes communities throughout Metro Atlanta and today they share some of their talent and insights with our readers…
Focus on Light, Views and Fresh Air: Joy states that many of her clients are seeking a connection with the fresh air of the outdoors. Homes with open floor plans, lots of natural light and outdoor entertainment space is important to buyers.
See Your True Colors: The long trend towards grays is swinging back to white, off-whites and beige to appeal to the broadest range of buyers. Joy says that her clients are seeking a more neutral, calm background while Tracy suggests sudden pops of color to add interest. There is less focus on adding color with accent walls and a heightened focus on adding color through accent pieces, artwork and décor like throw pillows, knick-knacks and rugs. Tracy says to keep an eye out for a resurgence of hot jewel tones, as well as a lot of "Blush" color appearing in the spring – thanks in part to the suggestion of Pantone's Color of the Year: Living Coral (PANTONE 16-1546)
And While We're on the Subject of Accent Pieces: According to Joy, expect to see accent pieces in inky shades of green and blue dominating the accessory market. Mixed metal accents will also be a big trend in 2019, such as soft combinations of silver and gold or nickel and bronze or pewter and aged iron together rather than the traditional purist approach using only one metal house wide.
Keep it Natural: When it comes to hot materials and motifs for 2019, Joy suggests that there's a yearning for more warmth and comfort with natural touches. A mix of warmer natural materials such as wood, leather, silk, and stone will help capture the natural feel. Also adding to the textures are metallic linen draperies, saddle leather, clay accent pieces and woven rugs of cotton and jute.
The Ground Beneath Your Feet: One product that is dominating the new home construction and renovation markets is Luxury Vinyl Plank (LVP) flooring.  Joy says that they are more practical, sustainable and affordable than expensive real wood boards. Elle Décor suggests that you lean towards LVP that mimics light wood floors as opposed to the dark, rich cherry, walnut or mahogany.
Relaxed Refinement: Elle Décor predicts that comfort will be key in home décor in 2019 including plush accent rugs and cozy couches. Joy suggests that it will be wise to incorporate warm neutral hues in one's furnishings using soft, comfortable fabrics like cotton, linen, leather, and velvet.
Lighten Up: Joy says that lighting is too often overlooked, even though it's an essential component of every home. Aside from its functional purpose, when executed properly, lighting can serve as the jewelry of the home, setting a sense of personal style and character for every room. For 2019, the most desirable lighting will consist of clean, simple lines.
Go with the Flow: Tracy suggests that in 2019, we should expect to see more tone-on-tone hues on walls and trim – using different finishes. In addition to creating a seamless look, this technique (particularly in shades of white) will give the room a serene and spacious feel. With an open floor plan, this painting style will foster a cohesive flow from one room to the next.
Form Meets Function: Tracy also says that there will be an increased focus on creating useful spaces from unused space. Consider the needs of your family and reimagine the use of each space to fit those needs. For instance, an extra guest room might be better used as a playroom and homework station for families that have elementary and middle school kids.
Texture Gesture: Last but not least, Tracy suggests that textures will be a must in 2019, but not only textures you can touch – textures that add visual interest. Elle Décor states that measures like adding floral fabrics and wallpaper, as well as boldly patterned backsplashes in the kitchen could help add that textured visual appeal.
From all of us here at Paran Homes, we wish you and your family much happiness in 2019!
Source: https://www.elledecor.com/design-decorate/trends/g23550602/design-trends-2019/