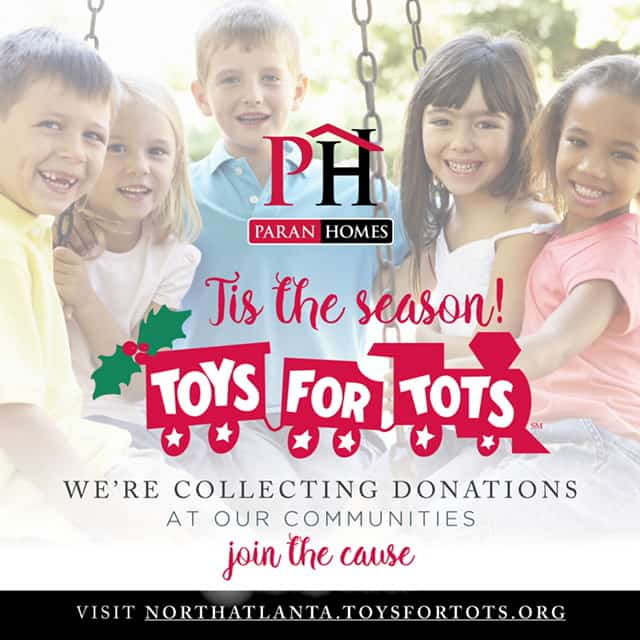 Regional Homebuilder Now Accepting New, Unwrapped Toys at Corporate Office and all Active Communities in Atlanta
Duluth, GA, November 20, 2017 –  Each time Paran Homes launches a new community in the Southeast and breaks ground on a new home, its team members can't help but imagine the families that will one day live there. They can envision memories being made and holidays being celebrated in those homes for years to come. Sadly, they also know that families come from all walks of life and their vision won't hold true for everyone. In a desire to give back to those in need within one of the cities where Paran Homes' has the greatest presence, the regional homebuilder has launched Toys for Tots Drives throughout Atlanta. Headquartered in Duluth, Paran Homes offers 10 drop-off locations for anyone who wishes to participate. Now through December 15, Paran Homes will collect new, unwrapped toys and bikes at its Corporate Office and all participating Atlanta communities.
"2017 marks Paran Homes' second year participating in the U.S. Marine Corps Reserve Toys for Tots Program," said Lesa Ness, Marketing Manager for the regional homebuilder and organizer of the company-wide toy drive. "Last year, we teamed up with the Duluth Police Department Criminal Investigation Division and had a wildly successful year thanks to our homeowners, vendors, employees and community visitors. We are really hoping to double our efforts this year and make the holidays a little bit brighter for even more children in need throughout the Southeast."
The list of communities where Paran Homes will be collecting on behalf of Toys for Tots includes:
The Toys for Tots Program was launched by the U. S. Marine Corps Reserve in 1947. For the last 70 years, its mission has been to collect new, unwrapped toys and distribute them as Christmas gifts to less fortunate children in the surrounding community. Paran Homes' Corporate Office – located at 3005 Breckinridge Blvd., Suite 200 in Duluth, Georgia – is now accepting toy donations. To find the addresses and hours of operation for communities where prospective gift-givers can drop off their toys at either the sales office or model home, please visit www.paranhomes.com.