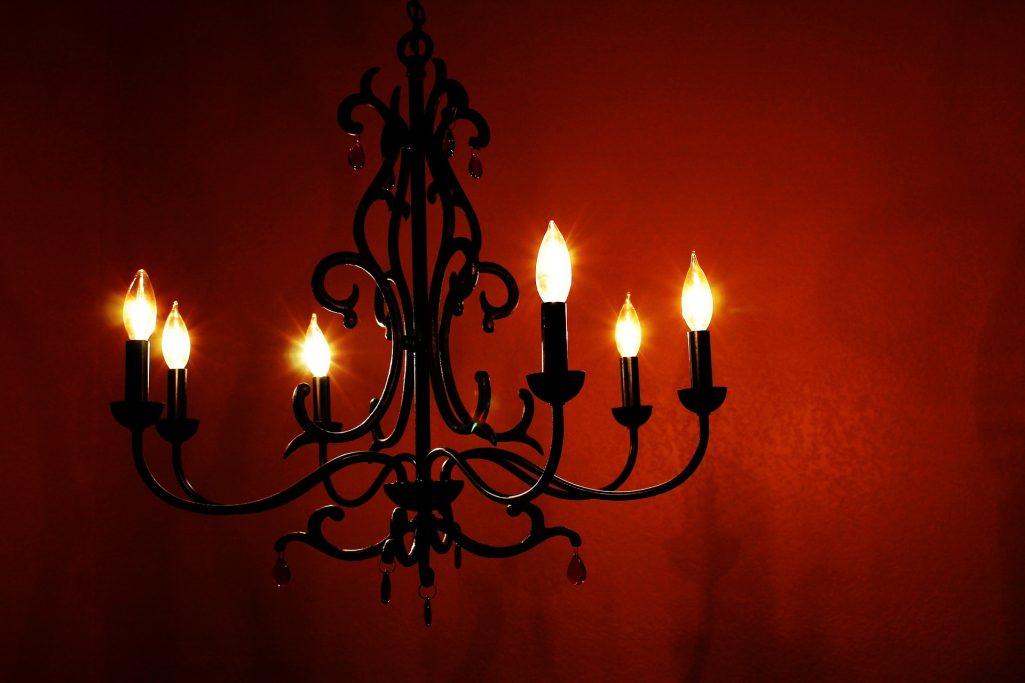 Okay boys and ghouls! As the Halloween decorations pop up on neighbors' houses in Paran Homes' communities throughout Metro Atlanta, it's clear that the "witching hour" is nearly upon us. While some favor the candy and others take delight in a good horror movie in the weeks and days leading up to All Hallows Eve, only the truly brave find Halloween happiness in the hallowed halls of a haunted house. Luckily for YOU, Metro Atlanta is filled to overflowing with fearfully frightening destinations – many located just a short drive from our neighborhoods. You can spend the afternoon house hunting and then while away your evening being hunted by ghosts in a haunted house. To help you find your way, we've compiled a daunting directory so you can get your ghost on!
Netherworld (Located Near Villas at Park Place and The Woods of Midvale)
2076 West Park Place Blvd
Stone Mountain, GA 30087
Having just found its final resting place in Stone Mountain after 20 years in Norcross, Netherworld is bigger, with the promise to pack in MORE THRILLS than ever before. This year's attraction themes include The Awakened – featuring a terrifying tour of the cursed town of Whyshburg with its crumbling cemetery, mummified corpses and the haunted rooms of Colber Mansion; and Subject: UNKNOWN – centered around an excruciating excursion through THE BOX – a facility where extraterrestrials have been dissected, releasing a rapidly mutating virus. Netherworld is open nightly through Sunday, November 4. Tickets are $23 for Awakened or $28 for the Combo on Sunday-Thursday (except Halloween) and $25 for Awakened or $35 for the Combo on Fridays, Saturdays and Halloween. TIP: The new facility features a greater number of free parking spaces than the former facility, but get there early, just in case. With ghosts, ghouls and monsters walking about, Netherworld is every bit as entertaining on the outside as it is on the inside.
---
Containment Haunted House (Located Near Kingsland)
www.containmenthauntedhouse.com
1320 Blairs Bridge Rd.
Lithia Springs, Ga 30122
Originally created for Midtown's Atlantic Station, Containment Haunted House has been crafted from shipping containers linked together by mysterious mazelike hallways and rooms. Open Thursday-Sunday through October 21, then nightly October 24 through the 31, with one last gasp on Friday, November 2 and Saturday, November 3. Prices range from $22-$25/person, depending on the night of visit. TIP: For added savings of $8-$12, purchase tickets in four-packs. The more, the scarier!!
---
Fear the Woods
3565 N Hwy 155
Stockbridge, GA 30281
This deadly destination features a terrifying trio of attractions: The Haunted House, Terror Transport & Haunted Trail, and Pandemic Frontline Haunted Combat – a NEW interactive, competitive feature in which one's laser tag skills could determine their fate. Admission is $33/adult and $26/child 10 and under for the Combo Ticket to see all three attractions or $19/adult and $16/child to take your pick of attractions. Fear the Woods is open Friday-Sunday through October 28 + Halloween.
---
Haunted Forest at the Buford Corn Maze (Located Near Traditions of Braselton and Heritage Pointe)
4470 Bennett Road
Buford, GA 30519
The family-friendliest option on our list, the Haunted Forest is designed for Kids 10 and Up (Adults, too!) A guide will take you through a winding maze of pathways with lots of heart-stopping haunts along the way. Since it's a part of the Buford Corn Maze, you can opt to add a trip through the corn maze, hay ride and other kid-focused fun. The Buford Corn Maze was recently recognized as one of the Best Corn Mazes in Atlanta by Country Living Magazine. Tickets for the Haunted Forest are just $15/person or you can combine the Corn Maze for $25/person. Either ticket affords you access to the hayride and kid zone. The Haunted Forest is open Friday-Sunday through November 4, as well as October 29-31.
---
ATL Dead (Located near Kingsland)
3731 Main St.
College Park, GA 30337
What has become a sensation in Washington D.C., Oklahoma City, OK and Santa Fe, NM has arrived in Atlanta. ATL Dead invites guests to "Survive the infection – fight the dead – take back our city." During this immersive 45-minute adventure that's a blend of live theatre and live action video game, teams of up to 6, armed with foam dart guns, will "fight their way through an abandoned storefront in search of a vaccine that could rid humanity from the infection." Tickets are $30-$35/person. ATL Dead is open Thursday-Sunday through November 3 + Tuesday, October 30 and Halloween on Wednesday, October 31.
---
Paranoia Haunted House (Located near Magnolia Court)
2075 Marietta Hwy
Canton, GA 30114
Featuring TWO terrifying attractions – Blood Bayou and Carnage – Paranoia Haunted House is a guaranteed SCREAM. In Blood Bayou, there's something evil floating in those swampy green waters and it's not just gators, and in Carnage, invites guests to visit that dark place buried deep within all human beings with the warning that those who fall into those shadows never climb back out. Combo tickets to see both attractions are available online and at the gate. Paranoia is open Thursday-Sunday, as well as Monday-Wednesday and Friday-Saturday the week of Halloween. Box office ticket prices vary by date for anywhere from $20-$25 for the Main Attraction: Carnage or $30-$35 for the Combo Ticket. TIP: Online prices remain the same no matter what day you visit: $25 for the Main Attraction or $35 for the Online Combo.
---
Nightmare's Gate (Located Near Kingsland)
3931 Longview Drive
Douglasville, GA 30135
Boasting a brand-new location about a mile south of its old location, Nightmare's Gate Haunted House brings guests to the medical epicenter of an infectious disease outbreak with Douglasville Hospital Outbreak. Beware the infected as Nightmare's Gate begs the question: "Will you be a survivor… or a statistic?" Tickets are $25/person. Open Friday-Sunday + Monday-Wednesday of Halloween week.
---
13 Stories Haunted House
320 Temple Avenue West
Newnan, GA 30263
Summoning the spirits of '80's and '90's urban classic films, this year's main theme at the renowned 13 Stories Haunted House is the Haunted Pink Trap House. At just $22/person, there are options to add other nightmarish experiences such as the Apocalypse Zombie Kill Experience or Sacrifice Extreme Haunt for an additional fee OR you can experience it all for $45/person ($56 on Fridays and Saturdays). Open Wednesday-Sunday and the entire week of Halloween, as well as Friday-Sunday November 9-11. TIP: Coupons available on the website.
---
Escape Woods (Located near Sweetwater Landing and Chestnut Farms)
Located at Sleepy Hollow Farms
628 Sleepy Hollow Road
Powder Springs GA 30127
This haunted happening takes the concept of an escape room to an entirely new level by moving things OUTDOORS! Eerie experiences include The Maze, The Bunker, The Cabin, The Gauntlet and The Shiners. In each fully immersive game, guests must try to escape before time runs out – it's like being in your own horror movie. Prices range from $28-$33 by experience. Open Thursday-Sunday through November 3. TIP: Tickets must be booked in advance.
---
Camp Blood
Located in Carrollton
See website for directions
In its 28th year, Camp Blood combines humor with horror to keep guests on their toes. This self-proclaimed "Home of Haunted Hillbillies and Dead Rednecks" is open Thursdays, Fridays and Saturdays through October 27, as well as Tuesday October 30 and Halloween on Wednesday, October 31. Admission is $25/person for access to Camp Blood AND Nightmare Inn. Cash only! There is also a $2/vehicle parking fee on Friday and Saturday nights. Box office opens at 8 and frights begin at 9 p.m. TIP: Bring 5 cans of new unopened food for Manna House Ministries to help feed the hungry and receive $5 off your purchase of a combo ticket on Thursday nights!
To learn more about Paran Homes and our communities throughout Metro Atlanta, please visit us at www.paranhomes.com.