The winter of 2017 was abnormally mild for Georgia, but you'd be hard-pressed to find a single Southerner that's upset about it. As it continues to get warmer, Georgians can take an early stab at getting outside into the great outdoors. Below, we've listed some of our favorite hikes around Georgia and close to some Paran Homes Communities that you can start exploring today!
Yellow River Park: Yellow River Trail
Located near: Snellville, GA
Step into the North Georgia mountains without ever going north. Nestled between Stone Mountain and Snellville lays 566 acres of rolling green hills and the beautifully flowing Chattahoochee River. The hike travels up a 3.2 mile stretch of an unpaved earth with an elevation gain of no more than 50 feet. It hugs the edges of the river for the entire duration of the hike before ending at a calm sheet-like waterfall.
Our community Annistown Meadows is close by, and in the process of selling last opportunities.
Villas at Park Place, an up and coming community that is now pre-selling, is also very close by.
GPS COORDINATES
33.791400, -84.071550 // N33 47.484 W84 04.293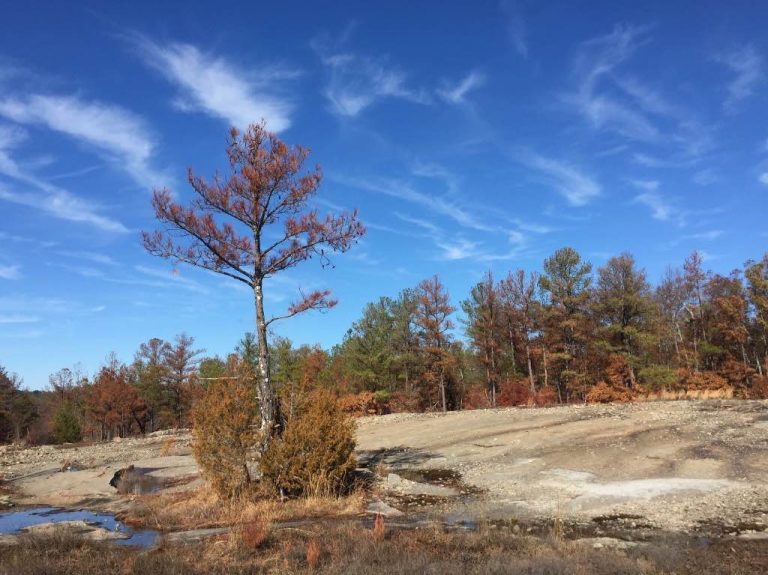 Arabia Mountain: Any Trail
Located near: Atlanta
Feel like you're on another planet by visiting Arabia Mountain. Once used for its gorgeous granite as a quarry, the stone-topped mountain serves as the perfect place for extended views, photo-worthy landscapes, and rare plant sightings. There is an abundance of trail options here, everything from forested, unpaved trails winding to a glassy lake, to stone summit views, you could spend the entire day at Arabia Mountain and not see everything. Put up a hammock and relax next to trickling creeks or get adventurous and catch a few geocaches (this place is littered with them!)
GPS COORDINATES
33.660294, -84.123704  // N33 39.618 W84 07.422
Sawnee Mountain Preserve: Indian Seats Trail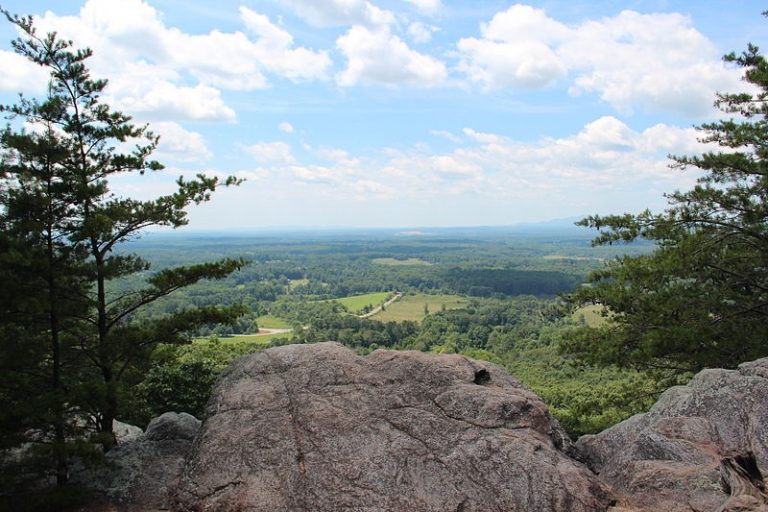 Located near: Cumming, GA
See the ultimate stone thrones at Sawnee Mountain Preserve. A moderate hike to the top of Sawnee Mountain provides incredible 360 summit views from over 3,000ft in elevation. A moderately challenging day hike of over 600 feet in elevation in the span of two miles leaves hikers with a beautiful vista awaiting them at the end. The trail gets its name from the granite depressions at the summit of the mountain that look like they were made to be seats. Perhaps they once were during the mountains long Native American history.
Close by is The Lakes of Franklin Goldmine; a beautiful community that is now selling in its new phase.
GPS COORDINATES
34.254750, -84.138933 // N34 15.285 W84 08.336
Cochran Mill Park: Henry Mill Falls Trail
Located near: Newnan, GA
Cochran Mill Park boasts over 800 acres of an incredibly healthy ecosystem thriving with native plant and animal species. The hike is 6.5 miles of unpaved land where you might pass people on horses or joggers on an adventurous run. The trail has several creek crossings that eventually lead to a rushing waterfall at the end. Take a refreshing dip or simply splash some water on your face after a hike-well-done at Cochran Mill. Visit the nearby town of Serenbe that is designed to be an intentional farm-to-table, a holistic community with peaceful meadows and a trail that leads you all over the small town.
Our communities Newnan Lakes, and Heritage Ridge are both in close out selling their last homes. Be sure to take a look while you are on your way to this beautiful park.
GPS COORDINATES
33.571550, -84.713350 // N33 34.293 W84 42.801
Chattahoochee Bend State Park: Riverside and Bend Trails
Located Near: Newnan, GA
For those up for a longer hike, the 10-mile sprawl of protected land at Chattahoochee Bend State Park should satisfy even the most avid explorers. This trail meanders through the woods along the Chattahoochee River and up through the woods over rolling hills. Never surpassing an elevation gain of 100 feet, this trail offers enough elevation to make you feel the hike, while flat enough for an enjoyable, not-too-arduous adventure.
Constitution Lakes Park: Doll's Head Trail
Located Near: Atlanta
For something a little creepier, or artsy – depending on your perspective – the Doll's Head Trail located just outside Atlanta is sure to please the entire family. This trail makes its way through verdant wetlands and glassy lakes with nature preserve boardwalks that make you feel like you're walking on water. Certainly one of the most unique hikes in all of Atlanta, this trail uses found objects from the nearby South River to decorate its short 1.6 mile loop. This marshy hike makes for the optimal morning adventure as the fog is just rolling off the dual lakes. A must-see hike for anyone living near Atlanta with a thirst for the unusual.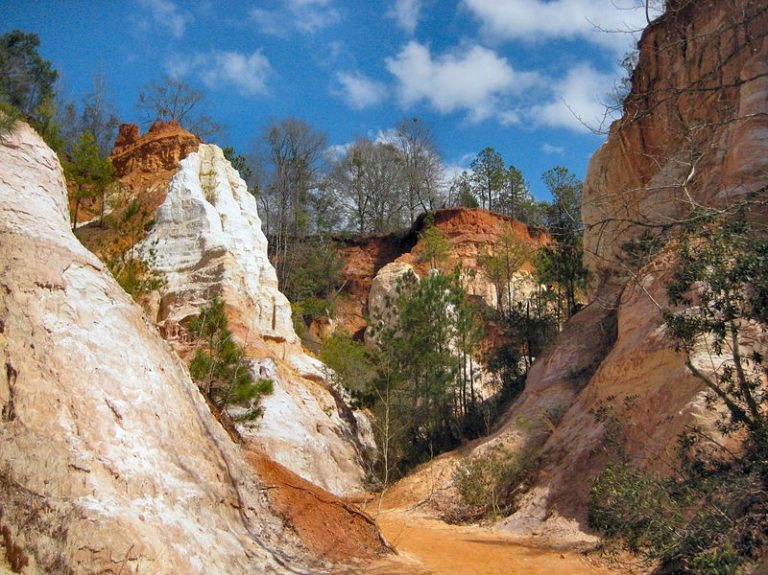 Providence Canyon State Park
Located Near: Lumpkin County
Located a bit outside of Atlanta, we couldn't resist including this day trip hike. Known as "Little Grand Canyon," Providence Canyon State Park is a geological masterpiece right in the southeast. With over 3-miles of trails and 7-miles of backcountry trails, the canyon is suitable for all ages and fitness levels. The caretakers of this park offer guided hikes and astrological viewings on certain nights throughout the year. If you'd enjoy a more structured activity, check out the park's updated calendar of events.
No matter where you choose to hike in Georgia's incredibly lush landscapes, always remember to tell someone where you're going and when you plan to be back. Always bring a source of water for yourself, a good pair of boots with ankle support, and enjoy a relaxing break from the hustle and bustle of everyday life.